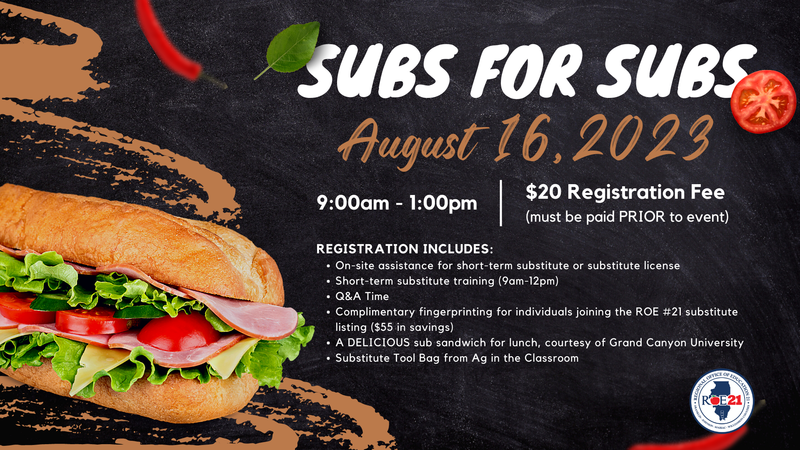 Click the link to register: Subs for Subs August 16, 2023
Important Information Regarding the Short-Term Substitute (STS) License:
Application Fee for the license is $25.00.
Application is available through June 30, 2028.
The license is valid for substitute teaching in PreK-Grade 12 and valid for 5 years.
License holders cannot teach more than 5 consecutive days per licensed teacher in the same school year unless the state has a declared a disaster proclamation in which the short-term substitute may serve 15 consecutive days per licensed teacher in the same school year.
Must complete a Short-Term Substitute Training to hold the STS License.
Can serve as a Paraprofessional.
A minimum of 60 hours of college coursework must be at the 100-level or higher from a regionally accredited college or university.
In order to be placed on the ROE #21 Substitute Listing, individuals must also have a background check, health exam, and TB test.
Prior to attending a Subs for Subs Event, each individual must have completed the following steps:
Pay in full for the Subs for Subs event ($20.00) to secure your spot.
Create an ELIS account on the ISBE website (https://apps.isbe.net/iwasnet/login.aspx).
(Please make sure you are using GOOGLE CHROME OR FIREFOX as your browser. MacBooks and handheld devices are not compatible with ISBE's website)
Submit official college transcripts in a sealed envelope or via e-script to the ROE #21 office.
Registration coming soon for the following Subs for Subs Training Events:
October 11, 2023
December 6, 2023
February 14, 2024
April 3, 2024